AMANDE IN
Neve
Inaugurazione: giovedì 27 marzo 2008, ore 18.30


a cura di Annalisa Retico


Giovedì 27 Marzo 2008 alle ore 18.30, presso il MLAC – Museo Laboratorio di Arte Contemporanea, La Sapienza Università di Roma verrà inaugurata Neve, prima mostra personale in Italia dell'artista francese Amande In (Les Lilas, 1981), a cura di Annalisa Retico.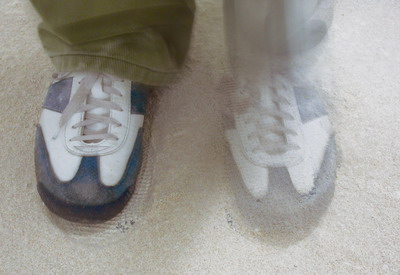 I lavori di Amande In rivelano un'estrema versatilità di linguaggio, una maturità e una consapevolezza rare in un'artista così giovane. Interventi creati appositamente per lo spazio destinato ad accoglierli, formalmente non riducibili ad un'unica tecnica artistica. Le sue opere presuppongono una premessa comune: l'artista studia lo spazio espositivo, lo ascolta, lo vive, lo arricchisce della propria presenza, camaleontica e discreta.
Riduttivo e inesatto, tuttavia, sarebbe parlare di una mera operazione mimetica; se così fosse, l'osservatore potrebbe attraversare lo spazio senza affatto esperirlo, senza viverlo pienamente. L'artista, al contrario, lo coinvolge con delicatezza suscitando molteplici reazioni percettive. Lo spettatore non potrà sottrarsi alle sollecitazioni olfattive, tattili e visive di volta in volta operate da Amande In.
Neve, realizzata in occasione dell'invito del MLAC, è un progetto creato ad hoc dall'artista dopo aver visionato attentamente gli spazi del museo. Un'opera disarmante nella sua semplicità tecnica e formale, intensa e problematica per le riflessioni che innesca nello spettatore. Leggerezza e gravità, coniugate e risolte in una metafora, sono il candore, la fragilità, la bellezza effimera della neve. Come la neve, l'opera copre per riscoprire, nasconde per mostrare, vuole essere toccata per scomparire fino a tradursi nell'esperienza pura e personale dell'osservatore.
Con Neve si apre un lungo progetto di collaborazione tra l'artista e la curatrice. È prevista la realizzazione di un progetto editoriale sperimentale, con contributi di ospiti internazionali, articolato in due uscite: la prima alla fine del 2008, la seconda nel 2009.
La mostra fa parte del ciclo espositivo del MLAC diretto da Simonetta Lux e curato da Domenico Scudero, ed è realizzata con il contributo della Regione Lazio per la ricerca "Applicazione nuove tecnologie multimediali arte contemporanea" e grazie al generoso sostegno della Banca di Credito Cooperativo di Roma.
Amande In è nata a Les Lilas in Francia nel 1981. Vive tra Parigi e Praga (website http://insides.free.fr).
Principali mostre personali: 2008 Hunt Kastner Gallery, Praga 2006 The best memories are the ones we forgot, Futura in Karlin Studios, Praga / Mystère, Institut Finlandais, Parigi 2005 Détours, La Vitrine – Galerie Frédéric Giroux, Parigi 2004 Soupçon, Galerie Alain Couturier, Nizza 2003 Uns, Galerie Premier Regard, Parigi Principali mostre collettive: 2007 Aparecidos, a cura di Cecilia Canziani e Vincent Honoré, Museo de la Ciudad, Quito 2006 Hopes & Dragonflies, Monitor, Roma / Until it makes sense, a cura di James Brook, Galerie Thaddeus Ropac, Parigi e Seventeen Gallery, Londra / Attentifs, ensemble, Attitudes, Ginevra 2005 Printing Matters, Witte de With – Center for Contemporary Art, Rotterdam / Serendipity, a cura di Muriel Colin-Barrand, Console & Galerie Frédéric Giroux, Parigi 2004 Ghostscapes, a cura di Philippe Rahm, Villa Savoye, Musée Le Corbusier, Poissy.
MLAC
dal 27 marzo al 29 aprile 2008
Lun – Ven ore 10:00 – 19:30
Direttore: Simonetta Lux
Curatore: Domenico Scudero
Ufficio stampa: Giorgia Calò
Commenti disabilitati

su Neve
zero comments so far
Please won't you leave a comment, below? It'll put some text here!
Copy link for RSS feed for comments on this post
Sorry, the comment form is closed at this time.